Our Pad Thai Recipe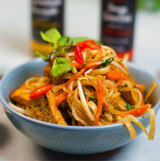 Pad Thai (serves 2)
Ingredients
250g meat of your choice (Mixed Marinara, Chicken, Prawn or Beef)
100g dried Rice Stick noodles
125g bean sprouts
¼ bunch coriander
1 carrot
2 tbsp. of each Poppysmack Tangy Tamarind Sauce & Caramelised Pineapple Sauce. For for peanutty taste, add a table spoon of Salty Sweet Satay.
Instructions
Soak dried rice stick noodles in boiled water for 5 minutes or until soften, drain.
Peel and grate carrot.
Wash coriander and chop at 2cm long.
Wash bean sprouts and drain.
Bring large frying pan to high heat. Add olive oil and quickly sear marinara with 2 pinches of salt. Put aside.
Using same frying pan, add softened rice noodle and carrot. Add 2 tablespoons of Tangy Tamarind and Caramelised Pineapple. Add salt to taste and toss.
When carrot is cooked, add cooked marinara and bean sprout. Toss until ingredients are all mixed then take off stove. Garnish with coriander before serving.
For extra kick, serve with Poppysmack Siam Chilly Sambal or Vietnamese Dipping Sauce.

NB: Seafood can be replaced with Chicken, Tofu or Beef.
Tricks: Toss rather than stir. To cook for 4, cook in 2 portions.
Watch our video on how to make PoppySmack's Pad Thai…
You need to get…