June 15th, 2020
Posted by Tran Truong
Uncategorized
0 thoughts on "Tom Yum"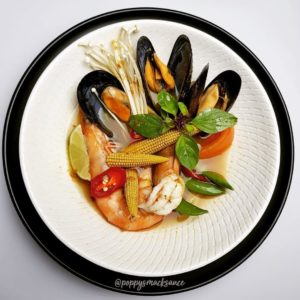 PoppySmack Thai Tom Yum
You need (Serves 2)
100g each of peeled prawns and mussels, 2 cups chicken stock, 1 1/2 cups of vegetables of choice (tomatoes, baby corn, enoki mushrooms, sugarsnap peas and red onion), basil, coriander and few wedges of lemon/lime to garnish,
2 tsp of PoppySmack Siam Chilli Sambal, 4 Tbsp PoppySmack Tangy Tamarind Sauce
Instructions
1 In a medium size pot heat up Siam Chilli Sambal over low heat for 1 minute;
Add the Tangy Tamardind sauce, stir to combine and heat for another minute;
Add chicken stock and bring to boil on high;
As stock begins to boil, add remaining ingredients in the following order of firstly mussel, peeled prawns then lastly the vegetable. Cover for about 2mins. Mussels should open when cooked, discard any unopened. Prawns should turn opaque pink but vegetable should still be crunchy;
Taste and option to add a dash of Vietnamese Dipping Sauce or a pinch of salt, and more Siam Chilli Sambal;
Serve seafood Tom Yum hot with a wedge of lime and garnish with a few sprigs of basil and coriander, and lemon.
NB :  Prawns and mussels can be replaced with choice of meat (chicken, fish) or other vegetable protein.